The Time is Now
The Time is Now is our business strategy and is an investment in a sustainable future and to be the best organisation we know we can be, for our customers, colleagues, partners and wider society.
We're investing in a sustainable future ...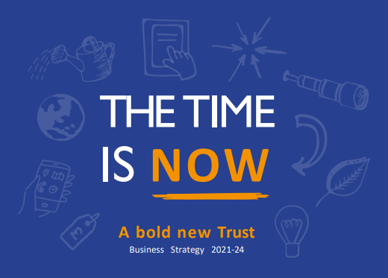 For nearly 50 years Trust has evolved and grown, and so it continues. The Time is Now saw the start of another new chapter for Trust as we meet the housing, health, economic, technological and climate challenges and opportunities ahead of us.
It is all about striving for 10/10 experiences for our customers and delivering exceptional value, putting our customers and empowered frontline teams at the centre of a growing business. The strategy also takes us on a journey towards net zero and playing our part in addressing the climate emergency.
The Time is Now has been shaped by listening to and working with our customers, colleagues and partners. It has also been shaped by learning from best practice across the UK and Europe.
The strategy was approved by Board in February 2021 and you can download a copy by clicking on the image below.
Our Customer Engagement Strategy for 2023-26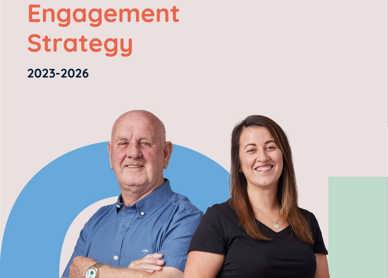 Trust is thrilled to announce a brand-new Customer Engagement Strategy which will be implemented throughout 2023-2026, creating room for new opportunities across our community, with some big changes on how our customers can expect to receive continuous improvements in their experience with us. 
Our new engagement strategy has been planned with our customers in mind, reinforcing our commitment to continually improve their experience. We're creating a wider range of options to make it easier for all customers to find the best path which works for them to keep updated with all the exciting things we have planned, and to ensure we have multiple communication channels which work for everyone to stay connected with us.  
Our customers' needs are changing, so we need to be ready to change with them: over the coming months, our priority will therefore be aimed at developing new structures with our customers, keeping them at the forefront of our planning.
The new strategy will turn our existing panel and committees into new topic-specific and focus groups within the communities we serve, to better help us understand what our customers are most passionate about, with the most impact.
This will pave the way for all our customers to receive first class communication, turning their feedback into action and change, improving customer satisfaction, and ensuring that everything we do is centred around doing right by each customer at Trust, whilst also making sure we continue to be a place where voices are heard.
We believe in better and are proud of the incremental gains achieved everyday at Trust. The new engagement strategy will ensure that we are here for our customers and continue to strengthen our relationships going forward, striving to make every experience an exceptional one.  
For more detailed information on our strategy, please read through our document below.